Rubber mastication refers to the mechanical process of breaking down and reducing the size of rubber materials into smaller particles. It involves subjecting rubber compounds to various forces such as compression, shearing, and friction to break apart the rubber molecules and disperse them evenly within the compound. The primary objective of mastication is to soften and plasticize the rubber, making it easier to process and shape into different products.
During the mastication process, rubber is typically placed in specialized machinery called rubber mills or internal mixers. These machines utilize rotating rolls or blades to apply mechanical forces and deform the rubber. The heat generated by the mechanical action, combined with friction, causes the rubber to soften and become more pliable. The shearing forces further break down the rubber molecules, reducing their size and improving their dispersion within the rubber compound.
Rubber mastication plays a crucial role in the production of various rubber products, including tires, belts, hoses, gaskets, and seals. By effectively masticating the rubber, manufacturers can achieve better mixing of additives, such as fillers, accelerators, and curing agents, resulting in improved properties like strength, flexibility, and durability in the final rubber product.
It's worth noting that mastication can also refer to the process of chewing or grinding food using the teeth, but in the context of rubber, mastication specifically refers to the mechanical processing of rubber materials.
Processed Natural Rubber
Treeless Rubber Lump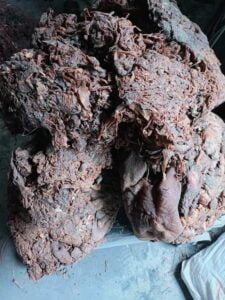 Masticated Rubber
Bangladeshi natural rubber has more stability resistance to heat and strength properties which makes them efficient for compounding process. Collected rubber lumps are washed and packaged with good care then sent to processing plants for refinement. Several kneading process and mixing with filler agent makes masticated rubber ready for further processing. Without proper mastication the molecular weight will be too high for others to process accurately.
In 2021, Bangladesh exported $5.56M in Rubber materials, making 48th largest exporter of Natural Rubber in the world. At the same year, Rubber was the 150th most exported product in Bangladesh. The main destination of Rubber exports from Bangladesh are: India ($5.32M), Malaysia ($144k), Turkey ($89.8k), and Norway ($481).
During 2021, Bangladesh imported $13.2M in Rubber goods, becoming the 53rd largest importer of Rubber in the world. At the same year, Rubber was the 437th most imported product in Bangladesh. Bangladesh imports Rubber primarily from: Vietnam ($11.5M), Thailand ($997k), South Korea ($497k), China ($69.2k), and Sri Lanka ($55.4k)